"Learning the more,the more the fun"
We support creative activities for ceramics.
Whether your goals are simple or complex, please feel welcome to enjoy the fascination of ceramics.
We have various curriculums in many different levels to fit your needs,either for beginners or for experienced learners.
We hope you will enjoy meeting other people here and finding new ideas.
Studio's characteristic features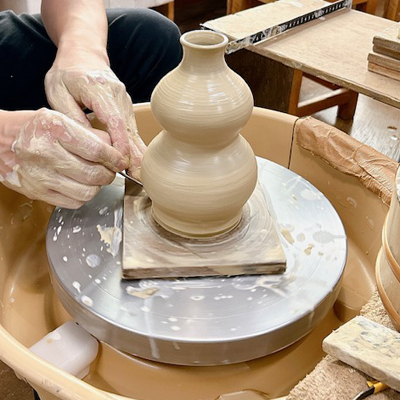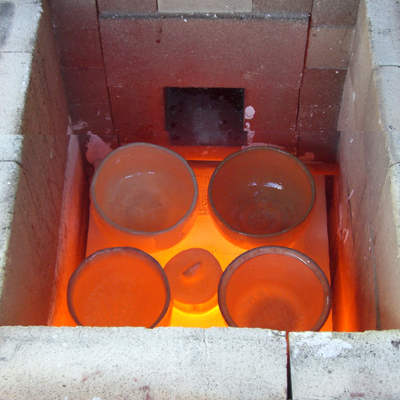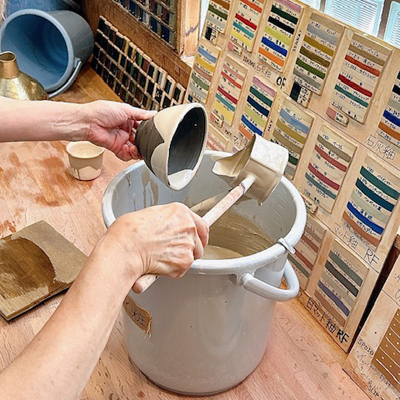 Easy for beginners to adjust to and enjoyable learning environment.
Learning starts with Basic Course.Students may continue learning after Basic Course by choosing the Technical Course, Wheel-Throwing Course,or Free Time. You are feel to continue at your own pace.
Please feel free to ask staff members any questions such as,"what do I do next?"or"how do I do *** ?"
We occasionally have special events based on a certain theme for students interested in participating.
When further interest concerning clay, glazes,or firing methods are of interest to students, staff members ar
e always available for advise.
All students are eligible to continue learning as a Free Time participant after finishing the Basic Course.
Admission and First-Times Lesson are available for application at any time.
Lesson Time Schedule
open AM10:00-closed PM6:00 (Mon.Fri.Sat.Sun.) open AM10:00-closed PM9:00 (Tue.Wed.) all closed (Tur.)
Students are able to choose from the time-table below for preferable Basic Course lessons (B/C).
After finishing Basic Course, students may come in to the studio at any given time.
| | Mon | Tue | Wed | Tur | Fri | Sat | Sun |
| --- | --- | --- | --- | --- | --- | --- | --- |
| am10:00~ | B/C | | | closed | B/C | | B/C |
| pm 2:00~ | | B/C | B/C | closed | B/C | B/C | |
| pm 6:30~ | closed | B/C | | closed | closed | closed | closed |
*Holiday business hours are the same as regular Sundays
Studio Summary
Staff
• 4 regular staff members.
Fees
• 1 Year Course Fee / 90,200yen
• 6 Month Course Fee / 48,400yen
• 3 Month Course Fee / 25,300yen
• 1 Month Course Fee / 9,350yen
• Once a week Course Fee / 8,250yen
*above fees include : basic studio clay (red & white clay),articles of consumption,and spaces for safekeeping.
Admission Fee
• 6,600yen(necessary only once)
Firing Fee
At anytime. ex) Approx, 500~800yen for a cup.
Facility
• Gas Kiln / 0.5m3
• Electric kiln / 15kw, 10kw
• Test kiln / 1.4kw
• Raku Kiln
• Electric Wheels / 8
• Clay Mixers / 2
• Air-Compressor
Clays
• red stoneware, white stonewere, Kutani porcelain, black stoneware, rough red stoneware etc...
Glazes
• We have approximately 15 different original glazes.
Other Materials
• We have a variety of under-glaze, over-glaze, and enamels.
*For more information, please contact us by phone, fax, or e-mail.